Cape Cod Gateway Airport is proud to offer a variety of services to meet your general aviation needs. Since 1928, the Airport has catered to all types of aviation and over the years has evolved in services that are offered.  With various partners from our Fixed-Based Operators (FBOs) and aviation support tenants, we have what you need to take flight – whether Cape Cod is your home base or your arrival destination. Please find information on our long established and reputable providers below.
Fixed-Based Operators
Cape Cod Gateway Airport (HYA) Operations Facility:
A wide variety of services for executive aircraft and general aviation aviation are available at Cape Cod Gateway Airport's Operations Facility. With services available 24-hours a day, 7 days a week we can supply you with what you need including: 24-hour Jet A sales, Ground Power Unit (GPU) services, weather information, pilot lounge with Wi-Fi and computer access, restrooms, showers, rental car arrangements, catering and more. Contact us for additional list of available services.
Note that in the Summer/Fall 2022, the airport is remodeling the Operations Facility to better serve our guests – stay tuned for construction photos!
Cape Cod Gateway Airport's Operations Facility is the sole provider of aviation Jet Fuel.
125 Mary Dunn Way, Hyannis, MA 02601
Located on the East Ramp.
Phone: 508-778-7770
Fax: 508-778-7771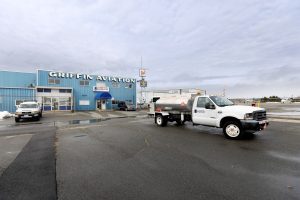 Griffin Avionics and Aviation Services have been serving the General Aviation Community since 1971. James T. Griffin and wife Jean opened up the Avionics Shop and later added on Maintenance and FBO services. Griffin Avionics is widely regarded as one of the best Autopilot Repair shops in the Northeast and still continues today as a BendixKing (Honeywell) Service Center.
Although the company lost the founder, James T. Griffin, in August of 2019, the business still continues on, with his wife Jean, sons Jim and Bob, and daughter Lisa continuing the family tradition.
Griffin Avionics is a full-service Fixed Based Operation (FBO), offering quality aircraft maintenance and line services as well as avionics support, avionics installations, service and maintenance, aircraft parking and aircraft fueling (100LL).
630 Barnstable Rd., Hyannis, MA 02601
Located on the North Ramp off Taxiway D
Phone: 508-771-2638
FBO open daily 7AM TO 7PM
Atlantic Aviation offers the finest in flight hospitality with best-in-class facilities and operating procedures, you cannot go wrong with Atlantic Aviation. Their fundamental beliefs in safety, care, and performance drive and guide every decision and every action. The Hyannis location features the following:  more than 22,000 sq. ft. of heated hangar space designed to accommodate large aircraft, ground transportation and valet services, catering, VIP meet and greet and concierge services, VIP lounge and computer terminals, workstations and Wi-Fi to stay connected. Ross Aviation serves the discerning traveler with plush pilot and passenger lounges, a crew restroom, flight planning facilities, and stylish conference and meeting facilities, all of which are adorned with world-class finishes.
730 Barnstable Rd., Hyannis, MA 02601
Email
Phone: 508 771-7520
AtlanticAviation.com
Other Airport Tenants
Specialized Automotive Services by Alla, LLC, serves the local Cape Cod community as well as off-Cape customers on aircraft, boat and car interior installations and refurbishments. During many years of devoted service to customers, they have become the experts in the field of manufacturing and installation of various interior items in planes, cars, boats, and classic cars. They happily work with private owners as well as with businesses such as Cape Air and other airlines, airports, restaurants, medical offices, marinas, SPA salons and hotels.
If you would like to repair or completely renovate the interior of your automobile, boat or aircraft - they are here to help! They creatively design, manufacture and install headliners, curtains, carpets, pillows, boat sofas, bolsters, side panels, bimini tops, enclosures, side curtains and many other items. They offer a wide selection of materials such as natural leather, suede, various vinyl, fabric, special foam, etc. They also install all major types of convertible tops and use the materials from only well-established and well-known manufacturers.
Specialized Automotive is happy to give their time and best effort to get to know their customers and their personal taste in order to provide the highest quality service in the industry. All you have to do is stop at their shop and share your vision, and they will project it onto your vehicle's new interior according to your personal taste and imagination!
Ground Support Equipment Building
630 Barnstable Rd., Hyannis, MA 02601
Located on the North Ramp off Taxiway D
Phone: 508-790-7007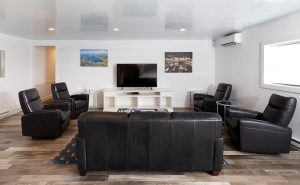 Gull Air:
Private charter services with a fleet of Cessna 400 series aircraft.
550 Barnstable Road, Hyannis, MA 02601
Phone: 508-231-5802
Aviation Support
Heritage Turbines is a Federal Aviation Administration (FAA) approved Part 145 repair station specializing in the Pratt and Whitney PT6A and PT6 engines. Their ultra-modern facility is staffed with skilled technicians and proud craftsmen and women, with decades of PT6A and PT6 experience.
35 Hinckley Road
Hyannis, MA 02601
Phone: 888-669-9531
Phone: 508-778-7788
Atlantic Aero Support, Inc is a Federal Aviation Administration (FAA) approved Part 145 repair station, FAA Repair Station POQR757K, specializing in the modification and repair of aging aircraft and its components.
Atlantic Aero Support was founded by Donald Pare and his partner Tim Pellegrino in 1988. Don serves as the Company's President and General Manager and brings over 45 years of aviation operations and maintenance experience, including in the field of production, quality control, and senior management. Atlantic Aero Support is a full-service FAA. Certified repair station with Accessory Class 1 and Class 2 ratings, servicing military, commuter, regional and corporate aircraft. Its team of maintenance professionals includes a dedicated staff with a broad range of backgrounds and expertise, allowing the Company the flexibility to meet the needs of its diverse customer base.
37 Hinckley Road
Hyannis, MA 02601
Phone: 508.775.6400
24/7 A.O.G Support – 774.487.7465
Fax: 508-790-4332