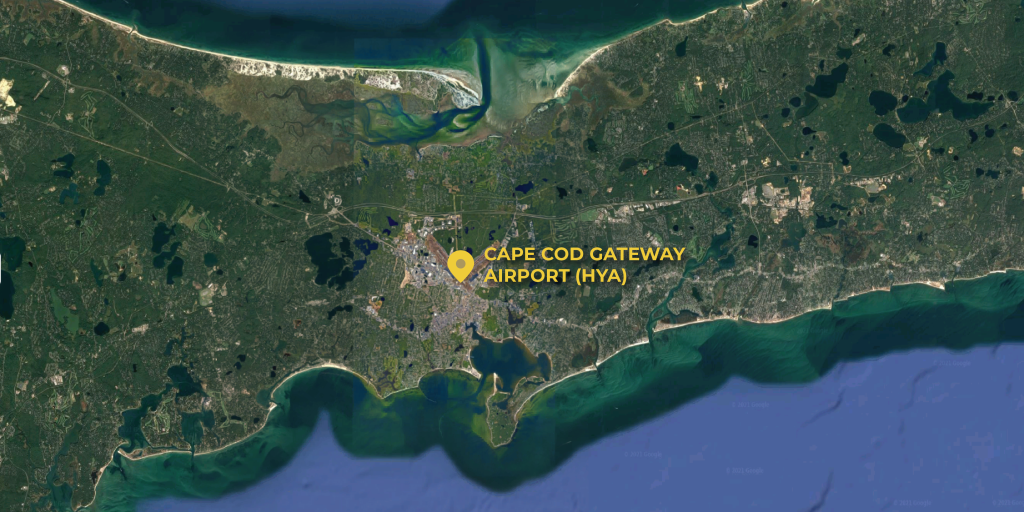 Cape Cod Gateway Airport is conveniently located in the center of the Cape. Driving directions are provided below. 
Directions to Cape Cod Gateway Airport
From off Cape Cod and west of Hyannis:
Take Route 6 (the Mid-Cape Highway) east to Exit 68. From the off-ramp, merge into traffic onto Route 132 toward Hyannis, and follow it until you reach the light at Attucks Lane (second traffic light). Turn left and follow the signs to the airport.
From the Lower/Outer Cape, east of Hyannis:
Take Route 6 (the Mid-Cape Highway) west to Exit 72. From the off-ramp, turn left onto Willow Street/Yarmouth Road and go to the intersection with Route 28. Turn right onto Route 28 and follow it to the new airport entrance ramp on the right – just before Airport Rotary.
From the Mashpee/Falmouth area:
Take Route 28 through Cotuit, Marstons Mills, Osterville and Centerville into Hyannis. Go three quarters of the way around the Airport Rotary, taking Route 132 away from Hyannis. Watch for Hinckley Road soon after exiting the rotary and turn right. The airport will be straight ahead.