CAPE COD GATEWAY AIRPORT IS GEARING UP TO CELEBRATE GIRLS IN AVIATION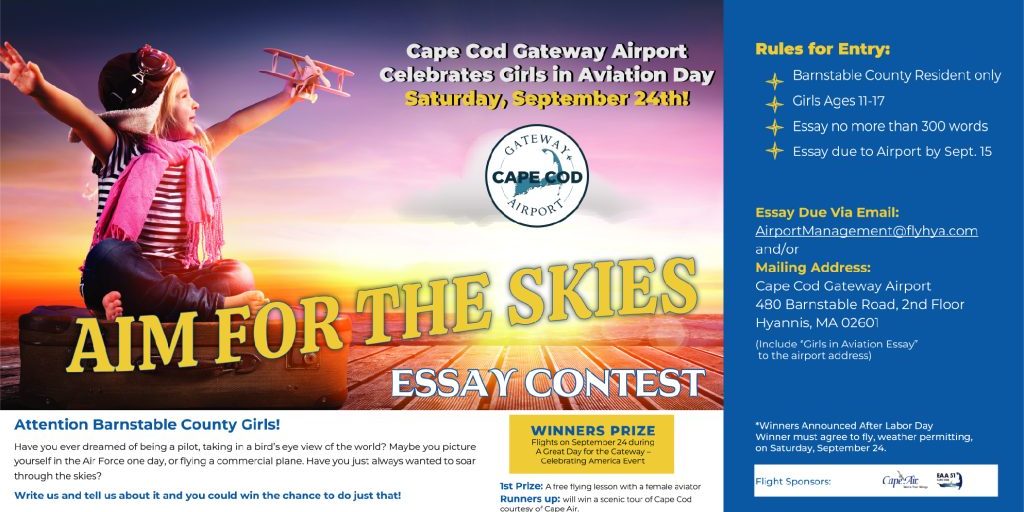 CAPE COD GATEWAY AIRPORT IS GEARING UP TO CELEBRATE GIRLS IN AVIATION
HYANNIS, MA (May 9, 2022) – The Cape Cod Gateway Airport (HYA) will be celebrating all aspects of aviation on Saturday, September 24th in Hyannis. A part of the celebrations this day will include a chance for one female to win a once in a lifetime opportunity for a free flying lesson with a female aviator. Runners up will win a scenic tour of Cape Cod courtesy of Cape Air. To participate, Barnstable County female residents between the ages of 11-14 are being asked to write an essay – no more than 300 words – detailing what is inspiring them to become a female aviator.
All essays must be submitted by Thursday, September 15th *DEADLINE EXTENDED* to the following address:
Katie Servis, Airport Manager Cape Cod Gateway Airport 480 Barnstable Road Hyannis, MA 02601
Email: [email protected]
All essays will be posted at the Airport this summer and on the Airport's social media outlets. "We could not be more excited to offer this exciting opportunity to a young female aviation fan," says Cape Cod Gateway Airport Manager, Katie Servis. "This could be the beginning of a fantastic career for someone in Barnstable County. As the Airport's first female airport manager, I look forward to hosting this event and making a young lady's dream come true!"
Winners will be announced after Labor Day and must agree to fly, weather permitting, on Saturday, September 24. More information about the event can be found online at FlyHYA.com.